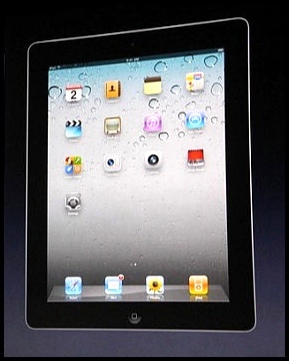 Well, yes, I got caught up in all the hype around the new Apple iPad 2.
I'd been listening to many tech podcasts talking about the last iPad, and speculations around the new on. I love that kind of stuff. I finally new that I was ready for one, but that was last fall. I came to the dilemma of do I get one now (last fall) or wait till March or April in hopes that they release a new version with specs worth waiting for. Then as the holidays approached, my wife began hinting that she would really like one for Christmas. Now came the big test, do I get one then, get two (one for each of us), or wait till after the holidays which I was pretty sure that Apple would be releasing an update. I waited. For those of you who know me, that was not easy for me. I have a NEED for the latest tech gadgets. The fact that I did not have one yet, and was waiting for something that I did not even know was coming anytime soon, if it was coming at all. The worst part was I spent the last 6 months stashing away little bits of cash, and now I had enough to go in and get it.
Well, I waited. And I'm glad that I did.
After the Apple iPad event on March 2, I knew it was coming. I new everything about it that I needed to, to want it more and more. The release date was a mere 9 days away, Friday, March 11 @ 5pm. Odd, a late hour release. What is going on? The worst part is I worked until 5pm. Come on, this is a major Apple release. Without the "normal" pre-ordering available, I'd have to be in line hours before the actually release time. So much for getting mine this round.
Friday came, and all I could think about all day was the iPad 2. Well, I was also thinking about those cool tasty new petite pastries at Starbucks. Mmmm Cake Pops. Those should have their own tier on the food pyramid.
Well, I got out of work around 4:30pm and headed home. On the way home, I stopped by Walmart, since I heard they might be getting some in. As I walked to the back of the store, towards the electronics department, I was readying myself to turn the corner and be at the end of the line where the person right in front of me was the last person to get one. Nope, no line. Damn, I stopped at a Walmart that isn't getting them. I walked up to the iPods, etc area, and saw they have the old iPad for sale. But what is that? A sign right next to it that reads "The iPad 2 will go on sale at 5pm". Really, they are going to have it? I asked the guy standing at the counter, and I was told they have 3, 1-32 GB, and 2-64 GB models, and all in black. Perfect! I ask where the line is at, so I can get in it. He said "Right now, you are the line". Sweet! I'm getting an iPad! Wait they only had the more expensive models, and they would only sell me 1. But I need 2. If I came home without 2, I would never see it as Lisa would "borrow" it. So, I took my chances, and left Walmart to go down the road, and go to Best Buy.
I got to Best Buy around 10 minutes till 5:00. There was a line of people. Not a huge line, but still more than the line at Walmart. As I walked up, I saw an employee out giving his "we also have all these extras you can buy" speech. Once he was done talking, I asked him if there were any iPads still available. He answered with a simple "Yes, which model do you want?"
Yes, I am one of the lucky few. And by "lucky few", I mean one of the 100s of thousands, if not millions, to actually get to buy the new iPad 2. I got a 16 GB iPad 2 in black. So far, I really like it. I am actually writing this blog post on it. I am planning on doing a review soon. I figure it would be nice for someone to read something not written by a tech pundant, reviewer or professional, but by just one of us common every day gadget users. Make sure you come back soon, and catch my review of the iPad 2 after I've given it a good work over.
…just my 2 beans
WO