During BlogWorld & New Media Expo, in Las Vegas, I got a chance to meet some of my fans.
wait… I got to meet some people I am a fan of.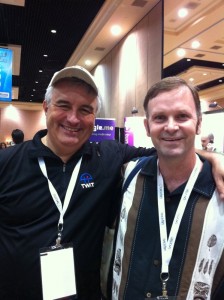 One of the people I truly admire in the world of new media is Leo Laporte. Leo, who has been involved in old media, both radio & TV, for decades, has created his own network, TWiT. The TWiT Network began with the online show, This Week in Tech. It is broadcast live online, as well as available for download. In a few short years, TWiT, under Leo's passion & direction, has grown to dozens of shows, and several employees.  Leo has always been an advocate of sharing information, by whatever means.  The idea that ANYONE can produce their own content for others to consume, it totally appealing to me. The fact that many people actually make a living, and some a really good living, by producing this content is mesmerizing.  This has been a total inspiration for me with my passion for sharing my coffee knowledge. Some day soon, I will be launching my coffee podcast, all thanks to the technology inspiration I have received from Leo Laporte.
If you want to check out some of the TWiT shows, look in iTunes. You can also find them on the Roku box, as well as join in  the fun, and watch live at TWiT Live.
Ironically, while I was in Vegas for a conference about new media, I ran into an "old media", radio personality. Mark Thompson, of the long-lasting morning show, Mark & Brian. I have listened to them for 20+ years, and while they are not broadcast on a Phoenix radio station, I do download their daily 4 hour show, via iTunes. He was in town for with his family to celebrate his daughter's 21st birthday. Mark had talked about his plan to hang at the Wynn Sports Book, during the Auburn football game.  Once I saw him, sitting next to several large TVs, I made my way toward him to say "Hi". Since the game had just got underway, I figured it would be best to hang back and wait for a commercial, or something. This was not easy as I have not been a fan of college ball, however, the Auburn vs Arkansas game was absolutely incredible.  So, a break in play came up, and I figured I would make my move up to meet him. I figured I would do my best to NOT seem like a dorky fan, so I tried a couple "ice-breakers".  I walked up and said "BRIAN! I am a huge fan. Just kidding, Mark." (They just talked about that the week before about how "fans" don't know who is who.) I said "Mark, my name is Warren, and I am a long time listener, first time stalker." He then introduced me to his wife Linda, who was sitting next to him. I then said "This is Lynda? I thought this was your daughter." Mark laughed, and told me I was really working it. That was a huge highlight for me, to be able to make someone laugh, who for years did the same for me. We talked for just a couple minutes, but I felt it was time to let him get back to his vacation, but more importantly, his Auburn game.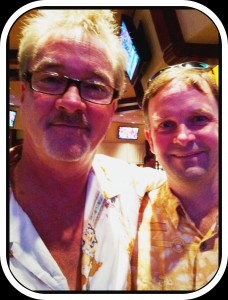 As I walked away, I thought "CRAP! I forgot to get a picture." As I turned around, the game was back in progress. No chance of a picture now. So, I waited back where I was watching earlier, for another break.  In the mean time, the game was getting really good. Mark was a true fan, leaping out of his chair, whooping it up, and clapping loudly, whenever something good happened.  I was looking at him, and Lynda was just looking straight ahead, and occasionally shaking her head during his "fan moments". Finally, another break came, I went up, but Mark was gone. Lynda was still there, so I knew he would be back, plus the game wasn't over. Finally, He came back and I asked for a picture. Lynda offered to take the picture, and after some direction "Mark, put your chin down. No more. Now up a little, etc. obviously trying to make sure he looks good." I got my picture. Mark's parting words to me, just before bye, were during the picture, "ok but hurry up, I got a game goin' on." A true fan.
If you don't listen to Mark & Brian on KLOS, or one of their syndicated stations, you should really garb their daily podcasts of their radio show. I have grown up with them, and it has been great listening to them and their families over the years. I remember when Amy was born, and she just turned 21. Crazy.
Thank you Mark (and Brian) for the years of laughs. Thank you Leo for your information and inspiration, to just "go for it".
…just my 2 beans
WO