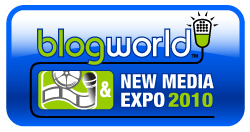 Blogworld and New Media Expo 2010 has come and gone. It was a fun-filled weekend with old friends, and new. BWE was filled with session topics from various people throughout the social media world. They covered topics on how to best use social media, how to make money through social media, well, just about anything with social media, and it was covered.  I was unable to attend all the session talks that I wanted, so after the conference, BlogWorld made available, all the talks, along with their presentations, online. I have not had a chance to watch/listen to them all yet, but they are pretty good so far.
During the conference, there was also the "trade floor". This was a place to meet vendors from all over the world, and what their products are doing within the realm of social media.  A lot were very interesting, but as a budding podcaster and private journalist, most were way above my needs, at least for now.  But the shwaag… now there was some good stuff to be found.  From the countless pens and thirst, to the$50 Miracle Mile gift card. Oh, and let's not forget the 3, yes 3, external hard drives from Seagate that I won.
The best part of the weekend was the social part of social media. I got a chance to meet several people that I have known for quiet some time, but this time in real life. Sometimes we just hung out, while other times we had more "structured" activities like parties and the Las Vegas Strip PhotoWalk. After all, social media is mainly, well, social.
Next year, I will be back. I am already planning on partaking in more of BWE. More sessions. More events. More meetups. And yes, maybe even Techcrunch Karaoke. So, if you want to see a really bad version of Sir Mix-a-lot's Baby's Got Back, complete with backup dancers, then you need to plan on coming to Blogworld & New Media Expo 2011.
…just my 2 beans
WO