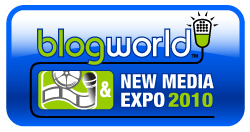 A discussion group that I am part of on twitter, DadsTalking, recently posted a contest. This contest is sponsored by Southwest Airlines and BlogWorld & New Media Expo. The winning prize: Roundtrip Airline ticket to Las Vegas and a full conference pass to BlogWorld & New Media Expo 2010
BlogWorld is just around the corner. In fact, it is Oct 14-16, and I NEED to go.
For those of you who don't know what I am talking about, BlogWorld & New Media Expo is the event of the year. The focus of the event is really about how to bring people together and share, whatever it is that you want to share. But more importantly, how to go about sharing it. Twitter. Facebook. Blog. flickr. Audio podcasts. Video podcasts. Live video shows. Many more now. Countless more to come.
We are social beings, well, most of us are. We seek out people who are similar to us. We seek out those who have differing opinions, too. Social media, can help you find people, or type of people you want to find. There are no borders in social media. The Internet doesn't require a passport to travel to other lands, cultures, and even thoughts.  Once way this is done it through "new media".
New media is the real future. As a culture we are driving ourselves away from letting others dictate who we are. We are curious. We want to learn about the things we care about. Do you want to know more about home gardening, auto repair, or good interviewing techniques? Well, there are multiple podcasts about that.  But what if you already know about that stuff, or better yet, subscribe to several similar podcasts, blogs, internet shows, etc. What if you want to produce your own content? Then you are in the same boat as I am. And that is where BlogWorld & New Media Expo comes in to play.
The yearly event/conference is where just about anybody involved in new media comes. It is a chance to learn, develop, and share ideas and experiences. This group of geeks is truly a humanitarian group. The majority of people here, really want to help move new media forward. This is a community of "inspirerers". They are helping others see what each of them are capable of doing, with just a little knowledge. They share the idea that anyone can produce anything they want. Everyone has a voice.
What is my voice? Well, it is a highly caffeinated one, that is for sure. For a couple years, I have been wanting to start my own podcast about coffee. I loved teaching my weekly coffee tastings, and I am now trying to share this with a larger audience. The initial reception has been very well received, I just have a little more to finalize. But now with my desire to do that growing, my 2 kids want have been inspired to host their own, as well. Okay, I'm not totally sure I did the inspiration, I think iCarly (on the Nickelodeon channel) had something to do with it, too. But now, the pressure is on. I have to learn as much as possible, so I can make sure my kids look/sound good on their show.
Okay, now let me be completely honest. Actually, all that above is totally true, however, I did leave out one important fact on my I want to go to BlogWorld & New Media Expo… it's in LAS VEGAS, Baby, VEGAS!
Special thanks to the contest sponsors…
Wanna know more about BlogWorld? Go to BlogWorldExpo.com
Need to take a trip somewhere? Try Southwest Airlines.
Wanna meet a cool group of dads all trying to be the best dads they can? DadsTalking.com.  Follow them on twitter @DadsTalking, and join the discussion at #DadsTalking
…just my 2 beans
WO