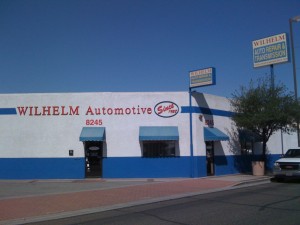 Tagging on to an earlier post, "Shop Local", I found another new reason to look locally. Cool stuff waiting to be admired.  Instead of going to a car dealer, or a big box auto maintenance shop, I decided to have my oil changed at Wilhelm Automotive in Peoria, AZ. They now have 3 or 4 locations around the state, but the one I went to is the original one, from 1928. Ok, the real reason I went there at first was because I won a free oil change in a raffle, but I was still going to go there, checking the place out.  I had seen their trucks, and ads for years, and I even work across the street from their Surprise location, but unfortunately, it still took me winning an oil change to actually stop by.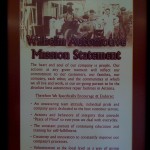 Besides getting great service from Wilhelm, I found that some local businesses really like to make their place, look and feel like, well their's. The problem with most corporations is the corporate feel that can overpower the locations. While this can be comforting, and give people reason to relax a little in a "familiar" place, overall, it is not very "friendly".  To bring in the look and feel of being an older, well established business, Wilhelm has some really cool things in their waiting area. The furniture is all older styled, with quilts, and such on the cushions. But as you start to look around, you notice some amazing little treasures from the past. Little treasures waiting for an admirer. And that is what I did, I admired. Here are some of the cool things I found there.
The most surprising thing was that for the most part, the stuff in these pictures actually worked, including the mac, booting up. They don't use the stuff, it is just for looks, but pretty neat that it was all just sitting there.
There was a lot more of some really cool stuff, from old tools, to nostalgic signs, both metal and neon. Obviously, being an auto shop, they had a really nice older truck that they use for "marketing" as it gets driven around town.
While waiting, I talked to the manager, and other worker the whole time I was there. I learned a lot about the history of the building, and just Peoria in general. That was an experience I am fairly certain I would not have had in a big box establishment.  All I can say is, I will be going back.
So, when you are planning your next trip to see or experience something "new", your trip might not be that far. Just go take a walk into your local "old town" area, and see what treasures await you.
…just my 2 beans
WO