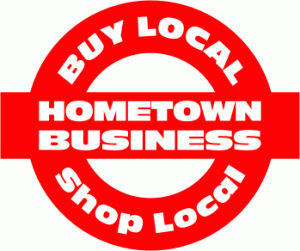 Shopping local. This has been a huge push in recent years. Sometimes involving protests, boycotts, and even just good old-fashioned marketing. I know you've seen it, and most likely you have an opinion, of some sort anyway.
Opinion #1: Shop local. Don't give your money to the big evil corporations.
Opinion #2: The big guys always give me choices, and cheaper.
Opinion #3… well, you see where this is going.
The biggest problem I have is when people, the extremists, verbally bash, and sometimes physically vandalize big businesses, just because they are not limited to being just small and local.
So, what is my opinion? I shop local. I shop big brand. I buy from what I like. I go after product, service, etc. I don't always go for the "cheapest", as I have found I may not be happy with what I get. You know the "you get what you pay for" saying actually does apply a lot. It just depends on what you really want, or need.
What is "local"? What isn't? I'm assuming, local is in the surrounding area, the community, city, maybe even the state. But I've even seen support for local under the tag "Made in the USA".
Let's say that local is really that nearby metro area your are in. Local businesses might be a mom & pop coffee shop, deli, hardware store, service company, etc. I've heard some people refer to local as where they money goes. But is that all of the money, or just the profits? Why does that matter?  If you are supporting a local business because it is local, that is fine, but are they doing the same? Are they local consumers, buying supplies from local businesses, etc. Do they share your feelings as well? A small business is trying to meet the needs of it's local community. But, it is also a business trying to meet the needs of it's "stock holders", usually, the owner/operators, by doing what, making a profit. If they don't make a profit, they won't be in business long.
One of the rewarding parts of owning a business is the overwhelming dream to be successful. While that means different things to a lot of people, to most it follows a nice little "formula".
Have a good product/service
Get customers, make them happy
Make enough money to live
Grow business
Expand
Have more happy, returning customers
Make enough money to live "better"
Expand more
Sounds almost like every small business owner's I know, dream. What is wrong with that? NOTHING. In fact, I would think that very few people would not like that. Celebrate, the small business owner that "kicks ass and takes names" in this world of corporatism. Right?  Well, isn't that how most big businesses started? Starbucks started out as 1 little coffee shop in 1971, and expanded to just a few stores until the mid-80's when one of their employees, Howard Schultz, had a vision. And he took that little company, to the coffee giant it is, with over 16,000 locations worldwide. But it started with ONE STORE. Similar stories for McDonald's, Microsoft, Apple, etc.
While I do understand that a big multi-national company is not sinking all of it's money into the local economy, but don't fool yourself, many smaller companies do not either. Since I brought up Starbucks, let's look at a small coffee shop versus Starbucks.
Both operate locally paying all local taxes, licenses, and business fees.
Both hire locally.
Both buy supplies, however, these are not usually made locally.
Both buy equipment that is NOT local (in fact, a lot of the good coffee equipment is not even "Made in the USA").
If they own a large batch roaster, the smaller shop has major points for this, and freshness of the roast. Starbucks does not roast "locally".
Both buy beans from other countries. Only the state of Hawaii can grow harvestable coffee.
Both invest back into the local stores to keep them fresh, updated, and in good repair.
Starbucks donates directly to local non-profits, based on the number of hours a partner (employee) donates in time to that non-profit. I am unaware of this from local shops, though I'm positive that many do contribute locally as well.
As I can see it, most small business and large corporations are in the same game, business. Believe it or not, both can be successful, and even in the same local area. While "low prices" may bring in a few customers at first, it will not keep them. Customers need value, little or large, they need value. The businesses with the better product and service will always "win out". Using my example, Starbucks only has a name  behind them. If a local coffee shop has a great product and customer service, they will survive, even with competition next door, and better yet, if they offer something that the big guys don't.  I love hanging out at Cartel Coffee Lab in downtown Phoenix. They have a Clover brewing machine. They have great employees that are passionate about coffee. The downtown location is new, so they are still working on it. But I love going there. I actually will drive 35 miles to go downtown, though usually not just for coffee at Cartel, but I have done that before.
Support your local business because they have a great product.
Support your local business because they have great customer service.
Support your local business because the owners are family friends.
There are millions of reasons why you should shop local, but the same reasons for shopping at the big businesses.
Stop bashing the big businesses just because they did exactly what every small business want to do…
Be Successful.
…just my 2 beans
WO
(disclosure: I currently work for Starbucks, though they have no part of this post. I just had a breaking point at listening to everyone smash Starbucks, having no clue all the really great things that they, and other big businesses do, even locally.)