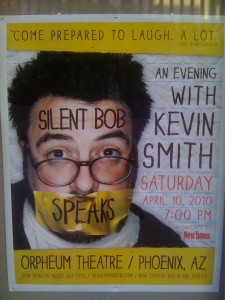 Last night, I had my eyes opened a little more.  I got to spend an evening with Kevin Smith, yes, THAT Kevin Smith. Well, okay, it was just not me, but me and about 1000 others. The "show", if you can really call it that, was absolutely incredible. Kevin was just another dude. He wasn't promoting himself, any movies, SModCast, or any other projects. He was just there to honestly answer questions, and to talk. Yes, a giant Q&A with the man who brought us Clerks, Dogma, etc.   I could go on more about this, but there is already an awesome blog post about almost my exact experience, posted by my wife, at her site, But I Could Be Wrong.
Where my eyes were really opened was the theater itself.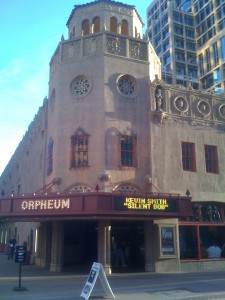 The event was being held at the Orpheum Theater in downtown Phoenix. Originally opening in 1929, the Orpheum has a wonderful history.  Prior to moving to Arizona, I lived in a little town, Monrovia, California. It is the quintessential "old towne". Our house was a 2 bedroom bungalow built back in the 1920's or so, in a neighborhood or similar era houses & buildings. I guess I love old things. That is why the Orpheum Theater has impacted me.
As you first walk up, you first notice the architecture on the outside. It is a timeless gem, resting in the middle new ground-to-sky glass monoliths. Don't get me wrong, I do love some new architecture styles, especially the stuff happening in Dubai, but this was something that had stood the test of time. Well, sort of.  The theater was run down, and in 1997 re-opened after a $14+ million renovation.  Well, let me say, ummm WOW!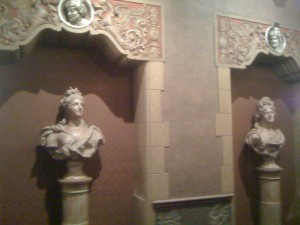 Once at the door, you are greeted by a door person who directs you to your aisle entrance. The lobby is ornate, and thanks to Kevin Smith, there was a cash bar. And drinks were allowed in the theater, too. The main hallway is lines with sculptures (pictured left) and such that remind you of old black & white movies, but this time in color, wonderful color.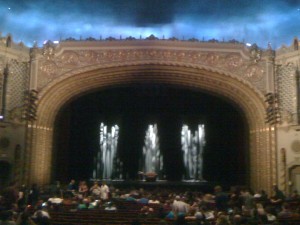 As you walk past the set of double doors and ushers ant each aisle entrance, you walk into the theater.  Now, luckily, it was a big theater, with lots of airspace. If not, the gasp that I, and several others did, would have totally depleted the theater of oxygen, causing a short evening for everyone. It is absolutely beautiful in there. The velvet. The gilding. The murals. Just amazing. The theater has a balcony which I am told, now after the fact, has an even more beautiful view of the entire theater. Maybe next time.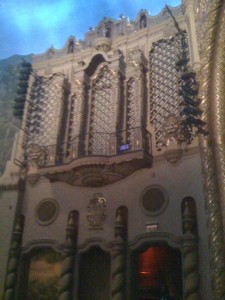 I am hoping to get around downtown, and other areas much sooner than I had originally planned. I want to find these gems, and share them with everyone. However, I do plan on bringing my Nikon, instead of just using my iPhone for pictures.
Yes, I am planning another visit to the Orpheum, hopefully to see something as awe-inspiring as the theater itself. Not that Kevin Smith was not deserving of that theater, not at all, but after that event, I would really love to have the same show in a livingroom setting. Kevin, doesn't matter, your's or mine.
To find out more about the Orpheum Theater,  Friends of the Orpheum has some great info.
…just my 2 beans
WO