Location based social apps are all around us, thanks to app phones like the iPhone & Google's Android phones, along with GPS technology. But are these good or bad. They all have there different "fun" features, including most of them being able to post your check ins to twitter and/or facebook. They serve the same purpose, letting people know where you are, and seeing where others are. Sounds scary? Sounds fun? Well, it can be both. It is all about how you use it.
I actually kinda like them, well ALL of them. Gowalla, Brightkite, Whrrl, Yelp, and the big daddy, Foursquare. Yep, I'm on them all, and pretty much check in regularly.  Each of them have there good things and bad, and I can only speak to what I have found on my iPhone (without GPS).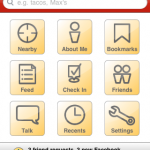 Yelp: is a great review site. You can write/read reviews of local restuarants, businesses etc. Posting photos of the places are also a great way to add a little punch to your review. I like to see what is local to where I am at, and read some reviews to help pick a place for dinner or something. Great word of mouth type stuff.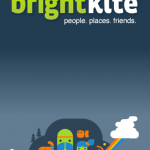 Brightkite was the, or one of the, original location based apps. To be honest, I haven't used it much, or often, as others appealed to me more. However, they did just launch their new Beta for Check.In. This is a mobile web app, that with one check in, actually checks me in to multiple apps. I just got that today, so we'll see how that goes.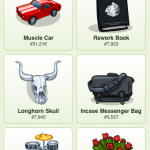 Gowalla was one of my favorites for several months. The fun part of this app is collecting items. People will check in, and leave "digital items" behind, and when you find it, you swap it out with something in your "bag". Why? Why not? A while back, Gowalla "hid" some items around the world, and when you checked in, if you found a "golden gift", you could open it, and redeem for a real prize. I found one. It was an iTunes gift card, $25, I think (it's been a while).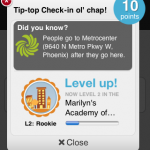 Whrrl 3 is one of my new favorites, because it is bringing more of the social part of these apps together. For example, when you check into a Starbucks, you become part of the "Starbucks Society". No, it is not a cult. Actually, every "place" has a society. But the cool part is once in one, you can see other members of the same society. If a nationwide business, like Starbucks, there are a lot of members, and you can possible find other people to "follow", internet wise. A local business may not have as many members, but it is easier to have a "meetup", and make real friends.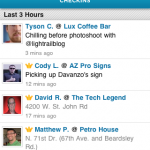 Foursquare if the king of the location based social apps, right now anyway.  This is the biggest, so has the largest active user base, again, for now.  They are always adding new features and abilities, including being able to check in using phone with only SMS.  But now the fun begins. With each check in, you earn points. Adding a location not already in database, yep, more points. Busy day "traveling" day, more points as travel bonus. What do these points get you? As far as I can tell, NADA. However, have you checked in more than anyone else in the past two months? Guess what, you are now the Mayor of that place. So… well according to a friend's (Wesley Novak) experience, more benefits just start there. Business are starting to experiement with these services, including Starbucks offering a special badge when you check in to 5 different locations. Some restaurants giving free desserts to the foursquare mayor. Others giving discounts to anyone who just checks in.  You can read more about his experiences in his blog post at http://wesnovack.com/?p=532.
Just be wary of posting "In Hawaii for the week. Dang, hope the plants don't die. I forgot to have someone check on the house." Believe it or not, sometimes people don't THINK about what they post. Don't believe me, just take a look at the site http://pleaserobme.com/
If you are thinking about signing up, or already have, please look me up. I'm "WOnet" on most services, and I would love to meetup sometime.
I am currently planning my followup post to this on why businesses should look into these services.
…just my 2 beans
WO